Offseason Fantasy Football Reboot: Did Philip Rivers Die?
Perhaps it is the great job the NFL does of getting us all excited at the beginning of each year no matter which team we love. Perhaps it is the ability to forgive past terrible seasons and the desire for better ones. Or, perhaps we just have so much hope in our bones that we veil the past and rely on this hope rather than on fact and knowledge.
Each year it seems like there is enough justification to make a case for each NFL team to be primed for a turn of the corner. The NFL draft, free agency, and trades are enough to make cases for most teams. The same sort of hope seems to happen in the rapidly growing realm of fantasy football. Individual players don't get the same rebuild as teams and yet each year there is a magical change in the minds of the media and fantasy football freaks. This culture of the media and fans everywhere is the spectacle that is the 'offseason reboot'. Here, we will analyze the reboot and why you should trust what you know more than what could be.
The idea of the reboot is that from the months of February to September an individual player can suddenly become what everyone has hoped he would become all along. No matter what he did the year before, or the year before, or the year before…the hope in our bones primes a player for his breakout year. This impression leaves a fantasy owner staring at Darren McFadden in the face each year during his/her draft and justifying in their mind how great of a year he is going to have.
I currently work in IT helping troubleshoot issues that employees in our company have with their laptops. The joke in IT is if it is broken; reboot. If the internet isn't working, unplug the router and plug it back in. If the computer is going slow, reboot it and it will be all better. One could laugh at the simplicity but a lot of the time it works. Computers have so much memory, and so many things going on that sometimes they just need a reboot to get their insanely large brains back to what they should be. This is a cute analogy, I know. How does it support my case that we shouldn't trust an offseason reboot if rebooting works? Because, well…NFL players aren't computers. I am sure C.J. Spiller is a smart man, but he is not a computer that we can just reboot. An offseason reboot leading to the hope of a new season does not convince me that everything is now running smoothly for him to the point that he should be the lead back of any fantasy team.
Now I do not discredit offseason workouts, practices and recovery from injury. I do not overlook the addition of new lineman to protect, better receivers for quarterbacks to throw to, or any other random reason we can make to justify the reboot hope. However, I do not get so caught up in all of it that I make myself believe that a coordinator saying that he would like his team to use (insert player name here) more often this year will make a significant difference in a player's yearly performance. Let's face it, each game is its own entity. On every given Sunday a team can lose three linemen to injury, a snowstorm can limit the passing game, or the Patriots can make their entire roster questionable so you don't know who is going to play. The infinite factors that can affect a game, the unpredictability of every Sunday (or Monday night…or Thursday), those are what really give us hope. This hope however, should be left for the excitement of your team's potential, and should be far away from the decisions you make in fantasy football. Rely on what you know about players, and not as much on what could be.
Contrary to what you may now think, I am not a completely hollow soul without hope. With the breakdown of the numbers, you will see that there is room for reaching. What you should know is that your team should be based on reliable players with a bit of reliance on players that you have a sixth sense quaking within that you just know he is primed to turn a corner. That is why I will give examples of players that you should not have hope in (the hopeless), and a few that you could go out on a limb for (the hopeful).
The Hopeless:
Robert Griffin III:
According to the Sports Center broadcast that is distracting me as I type, the offensive coordinator for the Washington Redskins says Robert Griffin III looks exactly like he did his rookie year. See people, my point exactly! If you were already wondering if this could be a turn-around year for Griffin, then this statement probably added fuel to the fire. Let's say Ron Jaworski now moves Robert Griffin up to his top ten quarterbacks and for the next month all we hear is how fast he looks and how accurate and powerful his passes are. All of a sudden the big boards for fantasy football have the third year quarterback flying up, and own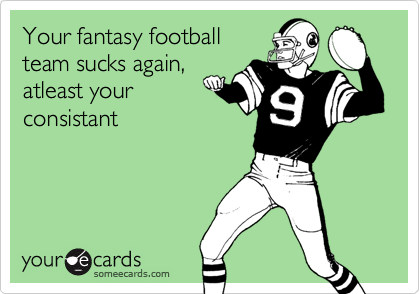 ers are drafting him toward the top of the draft. This is completely hypothetical of course, but if you follow fantasy football then you know this could easily happen. We get excited about a player to the point that we start believing that all of a sudden he is going to be the top steal of the year. I like Griffin but I do not think he gives you the consistency that you need. Head-to-head fantasy leagues require week-to-week consistency, and players that are going to be great during the fantasy playoffs. You hear that? Say it with me…Consistency…consistency…
During his much celebrated rookie year, Griffin threw a grand total of 20 TDs. Harvard's own Ryan Fitzpatrick threw 24, Sam Bradford threw 21, Josh Freeman threw 27. Don't worry Christian Ponder was two less at 18. Last year Griffin threw only two more touchdowns than the familiar names of Bradford and Fitzpatrick. He played in nearly twice the games of Bradford. An argument will obviously made for the running abilities of Griffin. However, I trust a torn ACL about as much as I trust the weatherman in Missouri. Ignoring his offensive coordinator's remarks, as we should have learned to do from my previous points, you should look and see that Griffin ran for a grand zero touchdowns last year. Cero, zilch, nada. Again, I am not hopeless, but I just do not think that a few months off from football will magically make Griffin into what we all wanted him to be. He did not show promise in December, and a new year does not convince me of a new Robert Griffin.
Darren McFadden:
Just kidding, we are done with this one right? The fact that he decided to stay with the raiders instead of giving us one more year to justify why his freakish abilities should turn into production should be the end of the road for us all. I just wanted to give you some comic relief.
C.J. Spiller:
We went through this last year, and I will admit that through some of my mock drafts I bought in. Eventually I talked myself out of it and was very glad I did so. For Spiller, the only thing that has changed from a year ago is the last number in the year that we are in. All we heard last year was how much the Bills planned to use him. He was discussed as the next big thing in running backs. Who would argue though? He has outstanding ability and it seemed like Fred Jackson was a bit over the hill when it comes to running back age. The coordinators and coaches tricked the fantasy world by much of the workload to the Stonewall Jackson.
I refuse to give much heed if any at all to Spiller hype this year. It is not as bad as last year, at all. According to fanatasyfootballcalculator.com, Spiller's average draft position (ADP) is around 30. This means that in ten team leagues, Spiller is going in the third round. Let's say I get Manning, and Dez Bryant as my first two picks. The clock starts on my third round pick and the amount of times I go with Spiller here match the amount of rushing touchdowns Griffin got last year. If you remember, that was zero. Shane Vereen, Ben Tate, Chris Johnson, Frank Gore, Reggie Bush, and the aforementioned Fred Jackson are all being taken after Spiller. I'll take those guys in the next round and grab another receiver in this situation. Spiller is a great talent, but he is ready for another season around 900-1100 yards and 4-6 TDs. These are ok numbers for a flex spot. If his receiving numbers pick up then I may peek my eye, but I am staying away for now.
Trent Richardson:
I'll keep this short. The once promising Alabama product has misled us long enough. His ADP is not nearly high enough for me to freak out, but it is enough for me to roll my eyes at. Again, days and months passing by do not always mean that things change to what we want, and Richardson is a prime example. Last year Richardson was a first round fantasy back and deserved to be. He had a very promising rookie year. He started off terrible and then gave more hope by getting traded to a contending team with an actual quarterback. This did nothing; he stunk. So much so that he was being dropped for flyers by just about everyone. You see when we see things happen then we lose our crazy hope and make good decisions. This year, I am declaring that nothing has changed and Richardson will not be worth being on your team. Sure if he is available really late and you want to stash him and take up room, go ahead. I personally don't even see that much hope for him.
Cordarrelle Patterson:
I am taking my stance, I do not believe in the Patterson hype. He made some huge plays, especially in the return game. But, simply put, who in the world is his quarterback going to be? If he was traded to the Patriots right now, the hype pushers would place him rightfully into the top ten of wide receivers. That felt nice to picture him with a good quarterback for a second and I am a Jets fan. Back to reality, Cordarrelle Patterson is on the Minnesota Vikings. They got a steal in Teddy Bridgewater who was once thought to be the first overall pick in the NFL Draft, but rookie quarterbacks generally do not make average wide receiver statistics shoot up to the moon. Right now his ADP has him sandwiched between Victor Cruz and Larry Fitzgerald. T.Y. Hilton is going almost two rounds after and he is the top receiver for the top young quarterback in the league. He has promise, and he will undoubtedly make huge plays and score long touchdowns, but I will not be taking him over those I know will produce. His promise does not outweigh the production of those I can get right around him.
Just Missed the cut of my list:
Montee Ball
Kendall Wright
Emmanuel Sanders
Mike Wallace
Maurice Jones-Drew
Hakeem Nicks
The Hopeful:
Here is where we get a little more positive. This is not meant to contradict everything I have shared about not trusting off-season reboots. The players that I have chosen to trust are those that do not need a reboot and yet unworthy players have been hyped up so much that these and other players get buried.
Philip Rivers:
It looks like the hopeful reboot technique has killed Rivers. Mere months ago Rivers was 5th in the NFL in passing yards, 4th in Passing TDs and 3rd in total QBR. He finished 5th among QBs in fantasy and yet he is going, on average, 14th in drafts this year. According to this gap in numbers, you would think that Rivers got traded and plays for a Josh Gordenless Brown's team. You might think this because in ESPN leagues Rivers is being drafted and then the next quarterback off the board is Johnny Manziel. Sooooo a top five quarterback that has been a rather
good one throughout his career is worth about as much as the Cleveland Browns backup quarterback. Do you know how many quarterbacks have played for the browns? A LOT! If you can get Rivers for this price, DO IT!
Matt Ryan:
Sometimes we get so excited about other players that we forget the skill of the established ones like Matt Ryan. Remember how one of the best receivers in the league missed basically the entire year and the Falcons and Matt Ryan fell apart? This is not a hype stick that I am waiving, this is common sense. Julio Jones returns this year, and he will be great. Matt Ryan's numbers with go up and he will be a top ten quarterback easily. Right now, Ryan is being drafted 12th among QBs in ESPN leagues. That is five positions behind that Robert Griffin guy. Two years ago, with his healthy receivers, Ryan was 5th in the league in passing yardage and TDs. Ryan did not just lose some guys and become terrible. He lost Julio Jones, who is now back and healthy. Matt Ryan is worth plenty of looks and I will take him week in and week out over Griffin, Kaepernick, or Russell Wilson.
Pierre Garcon:
Last year's league leader in targets and coming off of a career high in catches and yards, Pierre garcon is being highly (lowly?) under drafted. Garcon is going at a discount rate at this point. While your friends get the criminally inconsistent Vincent Jackson and the injury prone Randall Cobb, you can sit back and wait for Garcon to fall into your lap. He is a PPR king with a new running mate on the opposite wing of the field. Desean Jackson may scare some Garcon activists off, however their games fulfill more than they do deprive one another. Garcon catches a lot of shorter passes, and he has done so without the insane speed of Jackson taking away defenses. Sounds like hype right? Ok you got me here, but this is that one bit of hype you can go after. The rest of this argument goes back to his 113 catches, and 1,346 yards from a year ago. He is not about to slow down.
Ryan Matthews:
I would have laughed at this argument at the beginning of last season. Matthews seemed like we were going to throw him to the same wolves that now have McFadden. However, he came through last year, and he did so in an incredibly consistent way. If you couldn't tell, in fantasy football, I love consistency. Matthews does have his injury woes, but he also has stats to prove his reliability. Matthews had double-digit fantasy points 11 times last year, and he almost helped out my stat more by getting 9 points in week 13. His numbers in the pivotal weeks 14-17 went like this. 19…18…17…15. He may not put up huge numbers every week, but if you can plug him in at a FLEX spot, you have a great, consistent running back. The fact that C.J. Spiller, and an aging Frank Gore are going ahead of him right now is strange considering what he can do each week.
Just missed the cut of my list:
Dennis Pitta
Jordy Nelson
Chris Johnson
Julio Jones
Cam Newton: Quick note: I just saw a mock draft by ESPN experts where Newton went in the 9th round, one selection before Darren McFadden and well after Robert Griffin. Newton will be far better than this, you can count on that.
There is little need for summary. I believe that you can follow your heart in a pick here or there. However, do not trust hype, and do not draft merely based on a players average position. Get the best value at each pick and then grab one or two guys that the special teams coordinator sells you on so that you look smarter than me when this entire list of hopeless players break out this year. Fantasy football is not an exact science but go with history over your heart when establishing the base of your team. If this works let me know so I stop losing to my wife in fantasy football.