2014 NFL Power Rankings: 1st Preseason Edition
1) Denver Broncos-
It was hard to put Denver over a team they were beaten by in the most recent Super Bowl, but with the offseason Denver has had the only place they belong is here. They acquired: DeMarcus Ware, Aqib Talib, T.J. Ward, Emmanuel Sanders, Bradley Roby, and Cody Latimer.The only notable losses from the Super Bowl squad were Knowshon Moreno, Eric Decker, and Dominique Rodgers-Cromartie. Oh, and some guy named Von Miller is healthy now too.
2) Seattle Seahawks-
Don't take the ranking at number 2 coming in as reigning Super Bowl champs as sleight in ANY way. I believe Seattle, through and through, has the most talent stocked on their current roster in the entire league. That talent is very young though, as they are making the transition of loading up on younger players on rookie contracts or extremely team-friendly free agent deals (Like Eric Winston, Kevin Williams, and Terrell Thomas) to ease into the post Russell Wilson-rookie-contract-era…which will involve a lot of cash considering the 25-year-old signal caller has already delivered the richest of rewards to his franchise in the form of a Lombardi Trophy.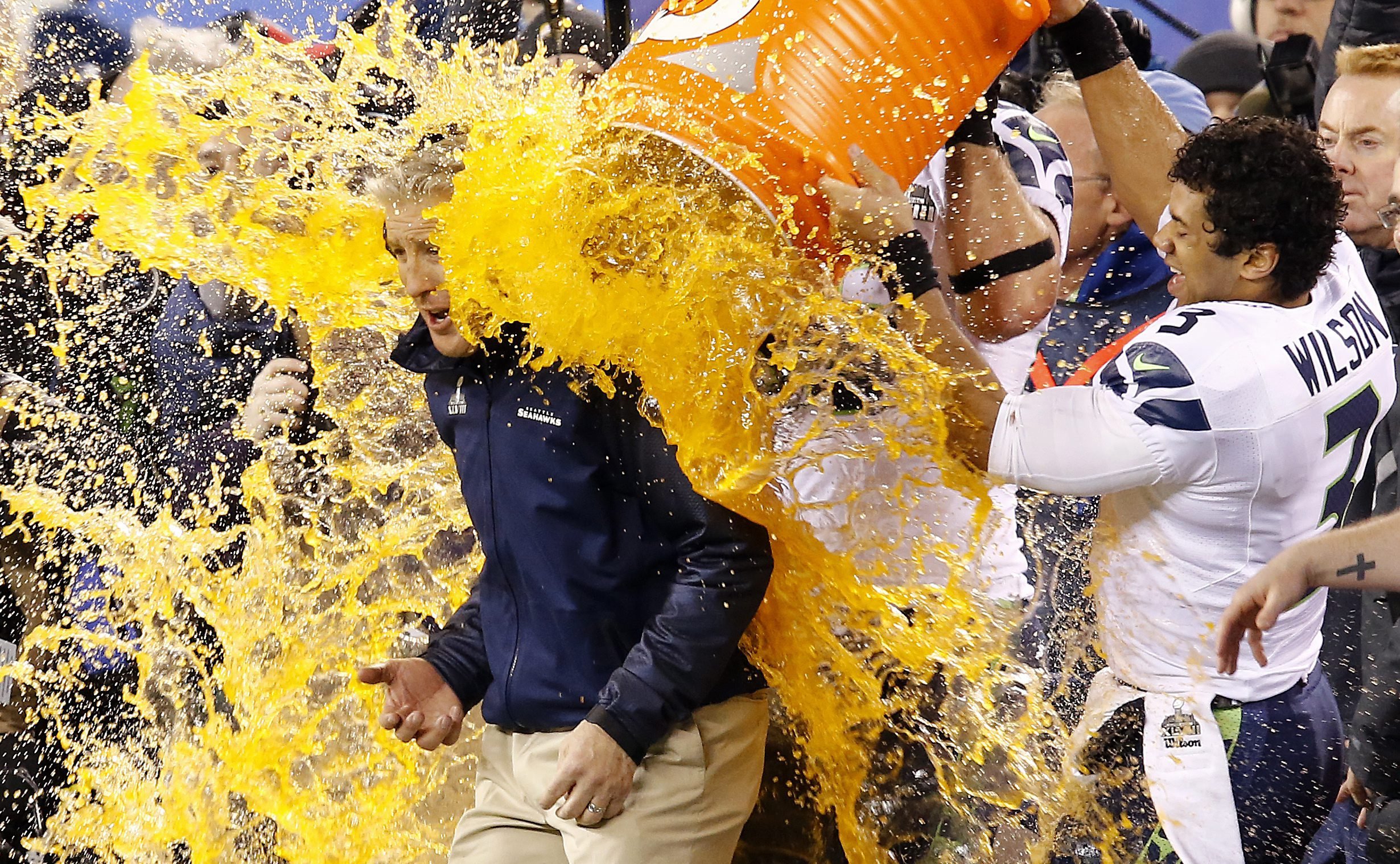 3) New England Patriots-
If next offseason Billy Belichick doesn't find a worthy WR for Tom Brady to pass to, I'm starting a petition. Poor Tom, he has to watch arch-rival Peyton Manning throw to an unlimited amount of stud pass-catchers, while Tom gets guys off the scrap heap and Rob Gronkowski when he's actually healthy. Now that I've gotten that off my chest I just can't help but be giddy to see the masterpiece that will be Belichick's defense fueled by Darrelle Revis. Vince Wilfork and Gronk returning from injury will also propel this team to yet another AFC East title.
4) New Orleans Saints-
Sean Payton proved his true value after coming back from a yearlong suspension last season. This team will be much stronger defensively in '14 and much younger on offense. This year's free-agency darling was Jairus Byrd, who ended up being wooed by Rob Ryan to come play alongside growing star, Kenny Vacarro. The trade away of Darren Sproles initially had me extremely concerned, until they drafted Brandin Cooks. Cooks will soon be providing all of those same mismatches and explosive plays Saint's fans are used to seeing.
5) San Francisco 49ers-
There are few combinations of NFL roster + head coach that could survive the adversity the Niners and Jim Harbaugh have in the offseason, while remaining in my Top 5. This speaks much to Jim's ability to raise his student's play AND also shows how masterfully Trent Baalke has loaded this roster over previous years. Amid rumors that Harbaugh was on his way out, an at-the-time controversy with Colin Kaepernick and some lady 'friends', and injuries to key players (Navarro Bowman), during ALL of these things they executed the best draft of anyone.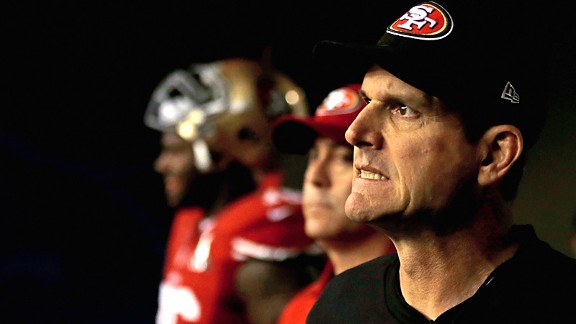 6) Green Bay Packers-
Aaron Rodgers will remind some folks just how dominant of a play-caller he really is in that offense in Green Bay. They've added key players on both sides of the ball (Ha Ha Clinton-Dix, Julius Peppers, Davante Adams, and Richard Rogers) with more returning this season from an injury-plagued previous year. Second year back, Eddie Lacy, will provide much stability for an offense that's passing game has shouldered majority of the load in recent years.
7) Indianapolis Colts-
Andrew Luck has led his team to the playoffs both of his first two years in the NFL. The roster is much better than it was either of the previous years, with Luck poised to take another large step forward in his NFL career in year 3. Add in Reggie Wayne and Dwayne Allen returning from injuries, Trent Richardson actually being put in a situation with potential for success (Hard to succeed with Brandon Weeden as your QB and then after being traded being given mere weeks to get acclimated), and the additions of Hakeem Nicks in free-agency and Donte Montcrief via the draft have the potential to explode.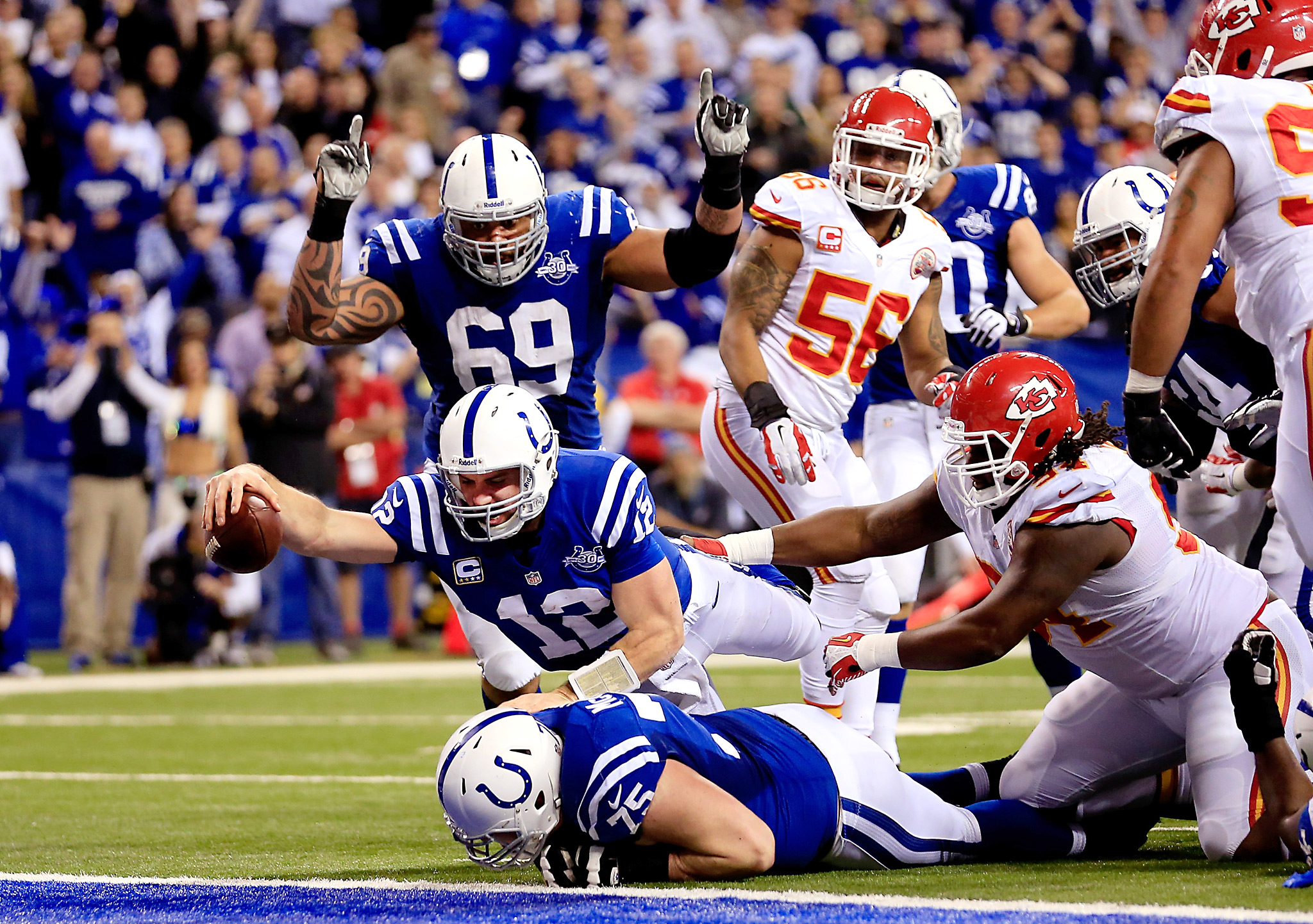 8) Chicago Bears-
Marc Trestman really is the Quarterback Whisperer. I think, given Cutler stays fully healthy season-long, Trestman will have Jay Cutler churning out career statistics in Chicago. Many coaches have tried to polish Cutler's passing up, and ended with another season in which Cutler threw the ball to the other team too many times, but none have had Trestman's pedigree. The defensive front 7 saw major overhaul, but only for the better. If Brock Vereen can hold down one of the safety spots this defense will be MUCH less susceptible to other teams having huge gains. Healthy Cutler + Re-vamped D = A very competitive and physical Bear's team.
9) Philadelphia Eagles-
Oh, what awaits Chip Kelly in year 2? Do defenses find a way to stifle his hurry-up attacking offense? Or does the whole thing continue to evolve with more players suited for this style of team? This defense will be much improved from 2013 and more accustomed to the fast-pace with which their offense gets on and off the field. The NFC East, as always, is brimming full of drama and excitement. When you see a man in his element, you just know. You can see that Chip Kelly is in his element and should continue his young team's growth quickly.
10) Arizona Cardinals-
Bruce Arians fielded a 10-6 team last season in the hardest division in football, in only his first year on the job. Arians brings a steady and consistent quality to the Cardinals. Although this 10 win team didn't make the playoffs, they were much better down the stretch of the year. Look for the emergence of Michael Floyd as he returns after his first 1,000 yard season. On defense look for Kevin Minter to step up and play a much bigger role in 2014 after teammate Daryl Washington was suspended for all 16 games. Carson Palmer will cut down on the mistakes as Logan Thomas continues his much-needed development.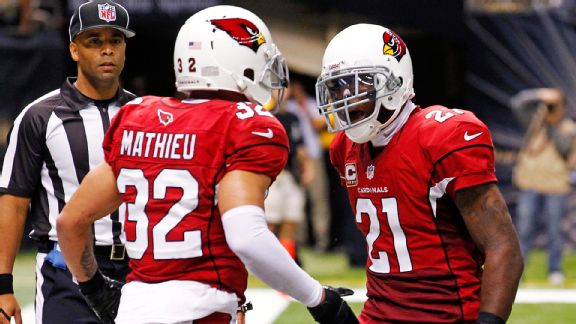 11) Baltimore Ravens-
Last year the Ravens took a dip after the retirement of Ray Lewis, the death-grip Joe Flacco's contract has on Baltimore's cap situation-forcing them to let quality players walk while not signing many, and the feared 'Super Bowl Hangover'. Ozzie Newsome just knows how to find players of extreme talent. It seems as though every year once someone drops on Draft Day, Newsome comes swooping in. This year they snagged C.J. Mosely (As good a prospect to replace Ray Lewis as you can come by), Timmy Jernigan, and Terrence Brooks. In consecutive picks they drafted 3 KEY franchise cornerstone players for years to come. No pick is a sure thing, but there are good things brewing in Baltimore.
12) Cincinnati Bengals-
With the Andy Dalton contract under control now, and on a VERY reasonable pay-as-you-go type of deal, all focus finally turns to picking up where they left off last year. They left off with Dalton's third one-and-done playoff defeat in a row. If this team can progress and learn how to finish, they could be lethal. Top to bottom the Bengals are top 5-10 roster being held back by their QB. I am a firm believer that if Andy Dalton can't deliver a playoff victory this season they will be very much so in the QB market (Behind closed doors).
13) Kansas City Chiefs-
Kansas City lost a lot of solid players this offseason, arguably the most of any team. Veterans like Branden Albert, Brandon Flowers, and Jon Asamoah all left the team for greener pastures. Fans will learn a lot about Andy Reid and his coaching ability this season as the Chiefs face one of the toughest schedules league-wide armed with arguably less talent than the season before. This smells a lot of an 8-9 win team. I expect Dwayne Bowe to improve on his numbers from the previous season in his second year in Reid's offense. That offense is particularly complicated for receivers to learn. Bowe is down 13 lbs to try and add some speed as well. There are many reasons to be excited for this team, but the secondary and offensive line is what scares me.
14) San Diego Chargers-
Mike McCoy has San Diego set up to best do what it did when they upset the Broncos last year, ball-control offense. Allow Philip Rivers and Ryan Matthews to bleed the clock as they slowly collect first downs and play good defense. Adding Brandon Flowers, Jason Verrett, and Jeremiah Attaochu will considerably add to their ability to stop opposing offenses. The Chargers biggest obstacle will be health and the toughness of their division. Facing the Broncos, Chiefs, and a rising Raiders organization will make it a bit more tough.
15) Pittsburgh Steelers-
In the past two years the Steelers have successfully overhauled their over-aged defense, headlined by Ryan Shazier's closing speed. Pittsburgh will likely put 2013 behind them and fight tooth and nail for the AFC North title, but talent roster-wise they are behind Baltimore…who are significantly behind Cincinnati. Mike Tomlin will work hard to remove any doubt about the toughness of his Steelers. This team desperately needs a few of their young draft picks of recent years to really elevate their play and overachieve if they're going to improve upon last year.
16) Dallas Cowboys-
8-8. 8-8. 8-8. If there were a team doomed to finish 8-8 AGAIN it'd fall on the Dallas Cowboys. Before the loss of Sean Lee there was some hope for this defense. Now there is simply added pressure on Tony Romo to carry this team in the same way as he's done for years now. One of the few things aiding the Cowboys in 2014 will be their outstanding offensive line and wide-open division. Dez Bryant will put up huge numbers this year and if DeMarco Murray stays on the field the offense should be lethal.
17) Atlanta Falcons-
No team is without a remaining need at a few positions (besides maybe the Seahawks or 49ers) and other teams have worse needs at more important positions…but when looking over Atlanta's roster on paper there is a GLARING hole where Tony Gonzalez used to reside. To an outsider as myself, it appears that the Falcons didn't even attempt to find an heir to the future Hall of Fame tight end. Maybe Atlanta is betting on itself to return to playoff form and lure Tony G. back for a final run at the Lombardi and I'm going to have to eat crow come December.
18) Detroit Lions-
Every year at season's end there is a certain air of hope blowing through the cities of teams in search of a new head coach. The possibilities are endless and fans are even more excited after watching Andy Reid take over the worst team in the league and in one short season turning them into playoff contenders. When I looked at the teams with head coaching vacancies I had Detroit circled as the top team situation to walk into. You already have your franchise QB, the best WR doing it, and a very strong front-7 on defense. That air of hope I was talking about? It was sucked out of Detroit with the hiring of Jim Caldwell, to me. I do not understand this hiring at all and I can only see it holding the Lions back in '14. Prove me wrong, Jim Caldwell.
19) New York Giants-
Nobody believes in Tom Coughlin's 2014 NY Giants, which means history indicates that they will beat the New England Patriots in the Super Bowl, right? No?…Okay. I believe they will miss the playoffs and Tom Coughlin will retire after the year. This was a team in desperate need of offensive line help and I didn't see enough improvement besides Geoff Schwartz to keep Eli Manning's jersey clean. The most interesting thing to watch is the handling of Eli, coming off a league-leading 27 interceptions. Will he rebound this season, or be searching for a new team next offseason?
20) Carolina Panthers-
I wouldn't want to be Kelvin Benjamin right now. This is a kid that coming out as a prospect wasn't looked at as an NFL-ready number one receiver. He wasn't polished and would have benefitted enormously from playing as a two somewhere while learning from an experienced guy. I would applaud this pick if they had kept Steve Smith for one more year. A lot will be asked of Kelvin and especially Cam Newton. We'll soon know to what extent Cam Newton elevates his teammates around him. I don't expect a playoff berth for Carolina unless Newton can carry the offense.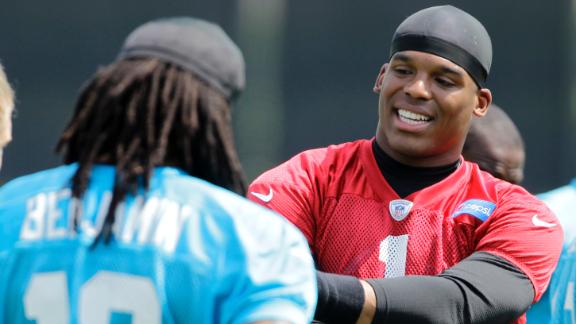 21) Jacksonville Jaguars-
Gus Bradley has this perennial laughingstock on the verge of being a fierce competitor for the AFC South crown in coming years. I'm comfortable leaving Jacksonville here until Blake Bortles is the starter or until they start winning games with Chad Henne. One more solid offseason and I believe these Jaguars will earn a much more respectable ranking. Bortles could very well play his way into the starting role with his preseason performances to date. So far as a pro his footwork has been massively improved since leaving college. I'm excited to see more Bortles and his growth with this young and upwards trending team.
22) New York Jets-
Rex Ryan guided a team to 8-8 that very many were mentioning as the worst roster/team/etc. NFL-wide before the season began. Now with a little bit of earned breathing room, Rex will continue to execute his plan. Geno Smith actually has a few weapons now, so judging his play will be a little more accurate now. If Chris Johnson can regain his old form this team will be tough, when Rex has had a good running game to pair with his defense his teams have gone far. Playing in the AFC East will give this scrappy team an opportunity to improve on their win total last season.
23) St. Louis Rams-
Second best draft of all 32 teams belongs to St. Louis. They got one of the 3 elite players, according to myself, and the most dominant DT in this class. I believe they will regret the passing of Sammy Watkins to select Greg Robinson in the short-term, simply because they need a good outside threat at WR more than they needed an OG, but if Kenny Britt can prove a viable option that all changes. The selections of Aaron Donald, Tre Mason, and Lamarcus Joyner add strength and depth to their positions, while selection BPA. Their season depends almost entirely on Sam Bradford's arm. Can he prove Les Snead and Jeff Fisher right for committing to him?
24) Minnesota Vikings-
If I were limited to choosing ONE team with the potential to turn it all around this year, I'd be proclaiming it to be the Minnesota Vikings. Mike Zimmer has wanted the opportunity to be the head coach for a long time, and was always strangely passed on. Now that he has finally gotten his opportunity I can't see Zimmer taking it for granted, nobody wants it as much as Mike Zimmer. Before (and after) the 2014 NFL Draft I spoke of Teddy Bridgewater as my top QB in the class. Despite many 'concerns' over his pro-day (which I put no stock in) he is the most NFL-ready as well. Playing with Adrian Peterson behind you and alongside a huge nucleus of young talent (seven 1st round picks in past three years) will speed up his development enormously too. I am very high on Cordarrelle Patterson, who should be even more consistent in his second year with a more stable QB.
25) Tampa Bay Buccaneers-
Lovie Smith will instantly make this defense a top half of the league unit in 2014, and with some luck copying the Bear's blueprint for success with Josh McCown at the helm they could sneak into the playoffs as early as this season. The cutting of Darrelle Revis gave them quite a large chunk of change to spend in free-agency, which they didn't hesitate to do. Lovie Smith's team will be fully bought in after giving up on Greg Schiano's alienating ways. If the offensive line can hold they'll be a tough opponent.
26) Miami Dolphins-
Ryan Tannehill has quietly been producing well in Miami, and even improved upon his rookie season during the scandal-rocked 2013 season where he was sacked more times than any other QB. To improve given his circumstances last season really sells me on the idea of Tannehill. If Bill Lazor can implement half of what Chip Kelly did in Philadelphia then this is a team on the rise. Joe Philbin & Co. have to be crossing their fingers that this brand-new offensive line can gel together quickly after returning only 1 starter from 2013.
27) Tennessee Titans-
This roster was almost as bare-thin as possible when Ken Whisenhunt was hired this offseason. A few months later and things are looking a lot more optimistic, but rebuilding this team will take time. They'll most likely be looking to draft a new play-caller in the 2015 Draft, if Jake Locker can't prove sufficient, and THEN the pressure will be on. Whisenhunt, a seasoned and experienced head coach, will focus mostly on helping this team to find it's identity. This isn't a one-year rebuild, though.
28) Washington Redskins-
RG3 seems much happier after the dismissal of Mike Shanahan. He'll be managed much better from here going forward under Jay Gruden. The acquisition of DeSean Jackson gives Griffin yet another speedy threat alongside Pierre Garcon. Next season the Redskins will finally be out of draft-pick-debt for their massive trade up to take RG3, which will allow them to finally begin adding top-end talent in the draft again. I see them as a 6-9 win team, year one. RG3 has a lot to prove this season, and with a steady and mistake-free season he could win Comeback Player of the Year. 29) Cleveland Browns-
Mike Pettine inherited a roster with one of the best young front-sevens in the league, a very talented offensive line, and one of the top three CBs 25 years or younger in Joe Haden. If Josh Gordon hadn't gotten suspended I would have the Browns closer to the 19th spot than the 29th. But instead of Gordon, Miles Austin is Cleveland's top wide out. I'm really hoping Brian Hoyer starts the season out for the first 3 games, against the Steelers, Saints, and Ravens (YIKES), for Johnny Manziel's development's sake. They have a bye week 4, for some silly reason, which would be an ideal time to make the switch to Johnny Football if Hoyer hasn't impressed.
30) Buffalo Bills-
The Bills are one of my biggest question marks heading into the season. We don't know enough about E.J. Manuel as an NFL starter after only 10 games played. I haven't watched all of his games, but from what I did watch I do see the potential there in E.J. Manuel. If they ran a more up-tempo offense and tried to imitate the handling of RG3 his rookie year –play calls designed for quick passes and screens to get the ball out of his hands quickly and allow their playmakers to get the YAC, which Buffalo would be even better suited to do than the '12 Redskins could because of their plethora of more talented weapons (Sammy Watkins, Robert Woods, Mike Williams, Marquise Goodwin, C.J. Spiller, Scott Chandler, Fred Jackson, and Bryce Brown) and a potential Top-5 D. This will only build up Manuel's confidence and chemistry with his pass-catchers, as well.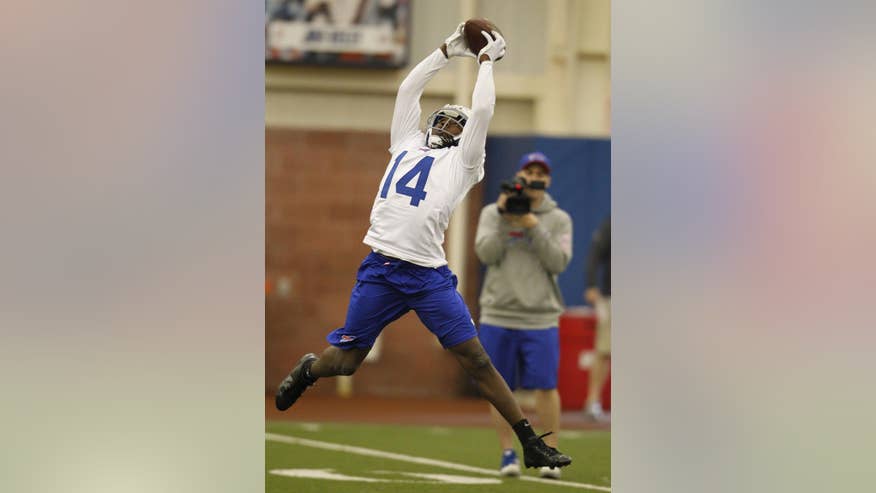 31) Houston Texans-
Houston could possibly hold a Top-5 Defense this season with the pairing of J.J. Watt and Jadeveon Clowney. Houston could also possibly harbor a Bottom-5 Offense this year with Ryan Fitzpatrick set to lead them. The offense he'll be leading contains a very injury prone Arian Foster-who has had 1,100+ carries in his short career, an unhappy and unmotivated Andre Johnson who wants a new area-code, and a rookie head coach who will attempt to be the offensive-coordinator as well. All signs point towards a transitional year.
32) Oakland Raiders-
The Raiders have been a complete and utter dumpster-fire since their Super Bowl loss to the Buccaneers in 2002. I highly disagree with much of the team's spending in the offseason, their decision to let Lamarr Houston and Jared Veldheer walk without franchise-tagging either, and their trade for Matt Schaub. I did like their draft, especially Derek Carr, Khalil Mack, and Gabe Jackson. If Carr were the immediate starter I would have this team spots higher. There is veteran experience on this team and they are better than 2013… but I'm far from sold.